WHO IS ANTIDOTE?
Antidote is a small boutique company based in the south of Poland. Behind the brand stand a couple of friends who are downhill racers and enduro enthusiasts. They are also mad keen about unique suspension systems and exquisite design. They develop, prototype, cut molds and arrange carbon fiber pieces – all in-house. Wide knowledge in the field of engineering, design, materials and production allows them to turn their bold visions into state of the art, high performance mountainbike frames, which are desirable across the world.
OUR STORY
A couple of young friends dreamt of creating a bike to match their expectations
"For 8 years I have raced downhill. I had many different bikes but they all had their issues and limitations. Together with a friend, we had decided to do something better and to realize our own ideas. Having engineering knowledge, we knew how to do it."- says Paweł Marczak, the owner and main constructor. Between 2005 and 2006 the Antidote brand and the first ideas for a downhill frame were born. Things properly kicked off with a suspension platform named Floating Damping System (FDS), which was developed in 2007 and patented in 2008. This system was Antidote´s key to constructing bikes with exceptionally effective suspension.
FDS is characterised by a virtual pivot point. Thanks to the fact that the pivot point changes its position, it is possible to achieve suspension which operates almost independently of the drivetrain. This platform provides optimal anti-squat values, which means it will not overly compress during every pedal stroke and will actively respond to any unevenness of the trail.
Our system has two opposite and rotating links which simultaneously compress the damper. This means, it is not directly connected to the frame or a rocker, which helps to evenly distribute the forces generated by the moving swingarm, subsequently allowing to reduce the weight of the entire frame. The lower link is mounted on the bottom bracket axis. Such positioning improves the stiffness and at the same time simplifies the structure. An additional advantage of the FDS is a very low center of gravity, which improves stability and maneuverability in a difficult terrain.
Floating Damping System was created to give the very best kinematic parameters for each discipline, ranging from DH to XC. Every bike equipped with FDS is one of the most efficient machines, created to push the limits and to win.
2010
First aluminium DH frame equipped with Floating Damping System is produced – The Antidote Lifeline
2011
During 2011, when almost all bike companies were outsourcing their manufacturing to Asia, Antidote started to produce first carbon fiber frames in their hometown of Kraków, Poland. The company developed their own carbon technology and material which is a combination of carbon and Vectran fibers. This combination is mainly used to strengthen the downtube, making it so resilient that the additional protection becomes obsolete.
Antidote Lifeline proved to be a reliable platform and was chosen to be the company`s first carbon fiber creation. Shortly after it was released, this carbon frame won the first prize at Poland`s biggest cycling trade show – Kielce Bike Expo 2011.
2014
In 2014, the company started designing an entirely new frame for the booming Enduro segment. One year later, the Antidote Carbonjack was launched and right away caused quite a stir with its edgy and ultra-modern design.
In 2015, Carbonjack earned the first prize of the Design & Innovation Award (DIA) for the highest-performing and most innovative product.
2015
While celebrating positive reception of their Carbonjack Enduro frame, Antidote team set a new goal – to create suspension kinematics which have a rearward axle path while maintaining high ride-height for the heaviest DH and Enduro use. Such a system helps to overcome large obstacles at high speeds and makes the most of the available wheel travel. The project was successful and the new suspension platform called Noster Kinetics came to life.
2016
Noster Kinetics – Antidote`s entirely new suspension system was implemented in company´s latest downhill project – the Antidote Darkmatter – which premiered at the 2016 Eurobike Trade Show.
2017
Since 2017, Antidote has well established their carbon fiber frame production, including the Carbonjack enduro and the latest Darkmatter downhill frame. In addition, to cater for the needs of customers who would like to give their bikes even more uniqueness, Antidote started offering custom paint jobs and decals. Working closely with the customer, we can execute almost any individual project.
• • •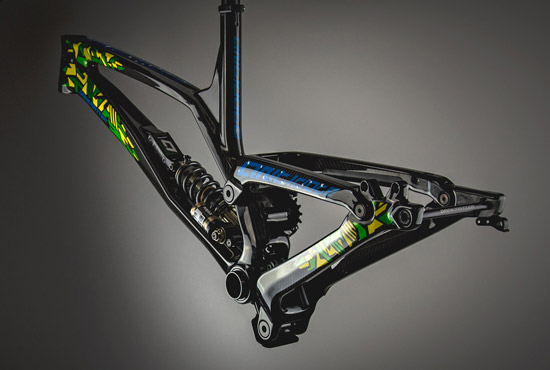 DARKMATTER

 Ultimate DH setup

 100% hand made

 Noster Kinetics platform 

 200 mm of travel

Race ready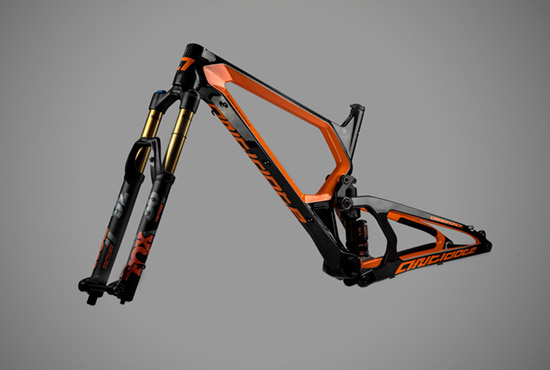 CARBONJACK

 Full carbon-vectran enduro weapon 

 FDS damping platform 

 160 mm of travel

 Slack geometry